Managing Adult Malnutrition according to 'MUST'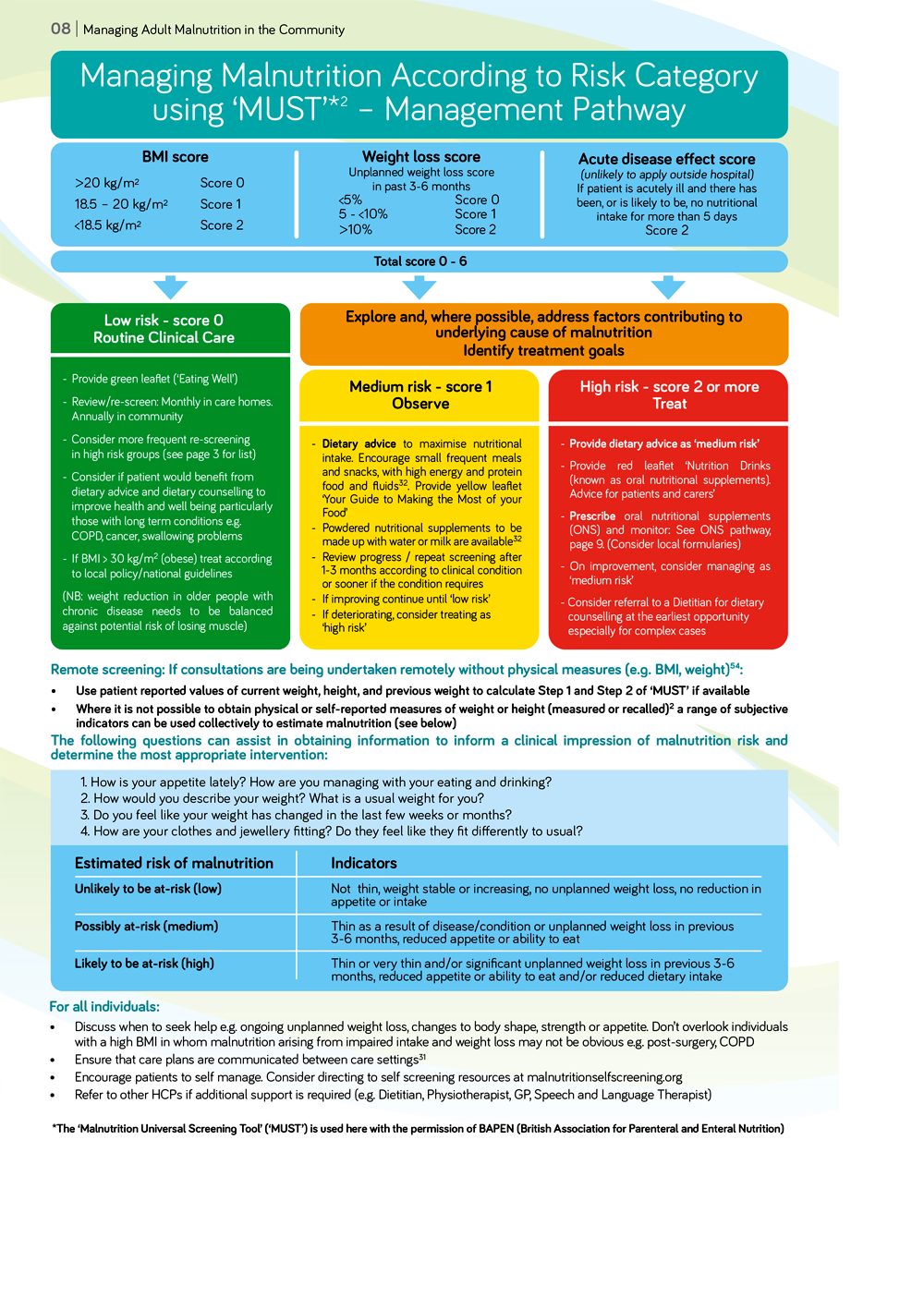 DOWNLOAD MUST SCREENING TOOL
In most cases malnutrition is a treatable condition that can be managed using first line dietary advice to optimise food intake and oral nutritional supplements (ONS) where necessary 20
• Management of malnutrition should be linked to the level of malnutrition risk
• People who are malnourished or at risk of malnutrition should have a care plan • For all individuals: → record risk → correct/manage underlying causes → advise → agree goals of intervention → monitor
• When possible treat or manage the factors contributing to the cause of malnutrition
• Consider a multidisciplinary team approach to determine the optimal nutritional strategy, according to the individual's clinical condition and social situation. The team may include GP, dietitian, nurse, occupational therapist, physiotherapist, speech and language therapist, community matron and community pharmacist
• Management options, also known as oral nutritional support, may include providing advice on a balanced diet, dietary advice to maximise oral intake (including food fortification, snacks and nourishing fluids), ONS to complement dietary strategies as well as practical measures such as assistance with eating, addressing social issues, ensuring ability to shop (physical and financial) and prepare food and texture modification 14
• Screening and monitoring for malnutrition should be in line with your organisational policy and follow national guidance where possible

Goal setting
Agree goals of intervention with individual/carer
• Set goals to assess the effectiveness of intervention (see examples, below)
• Consider disease stage and treatment, adjusting goals of intervention accordingly. For example nutritional interventions in some groups, such as palliative care and patients undergoing cancer treatment, may not result in improvements in nutritional status, but may provide a valuable support to slow decline in weight and function
• Discuss intervention with patient/carer to ensure that it is feasible for them to implement/tolerate

Examples of Goals
Goals are not limited to but can include:
• To optimise recovery e.g. pressure ulcers, post-operatively
• Improving mobility
• Reducing risk of frailty and falls
• Preventing further weight loss
• Increase weight/muscle mass
• Improving strength
• Increasing nutritional intake
• Improving the individual's quality of life or ability to undertake activities of daily living
• Reduce infections, recurrence or exacerbation of a condition
Monitoring the intervention
• Monitor progress against goals and modify intervention appropriately
• Consider weight, strength, physical appearance, appetite, ability to perform activities of daily living compared with the goals originally set
• Frequency of monitoring depends on setting, treatment, anticipation of patients likely projection and organisational policy
---
Managing Adult Malnutrition
Oral Nutritional Supplements: Where individuals require (or already have) a prescription of ONS, this pathway will guide you in setting goals, deciding on dose and duration of ONS, how and when to monitor progress and when to discontinue prescription.
---
A Guide to Managing Adult Malnutrition in the Community: the complete document is available.
---
Resources
A selection of publications for use by healthcare professionals, patients and carers are available in the resources section of the website.